Cosmoline 70
Dosing and capping line for liquid cosmetics
A line to fill, cap and label packages of liquid products with an increased capacity (up to 70 pcs/min), it works with various types and shapes of packages and a wide range of liquids that may be the fillers, such as: hand soaps, shampoos, cosmetic toners, hair conditioners, etc.
The main features and benefits:
Filling of a wide range of cosmetics: shampoos, soaps, emulsions.
Quick and easy product changeover time.
Each package shape – adjustable format pucks.
Capping machines for any type of container closure – cosmetic pumps, sprays/triggers, flip-tops and push-pull caps.
Possibility of dosing a combination of products by dispensing liquids of different colours and densities in one cycle.
Possibility of continuous capping.
Cap presence indication system.
Dosing by means of flow-meters – up to 8 filling stations.
Capacity: ~ 70 pcs./min
The line is intended for short batches of products: easy and fast changeover for a different product (in less than 30 min) with the use of no tools.  The line works in the system of elastic pucks which ensures smooth workflow with any package shape.  The device is also equipped with an automatic product reload module from the pucks.  After reloading from the pucks, the bottles are forwarded to a labelling machine which performs the wraparound labelling (for round packages) or front/back one (for flat packages).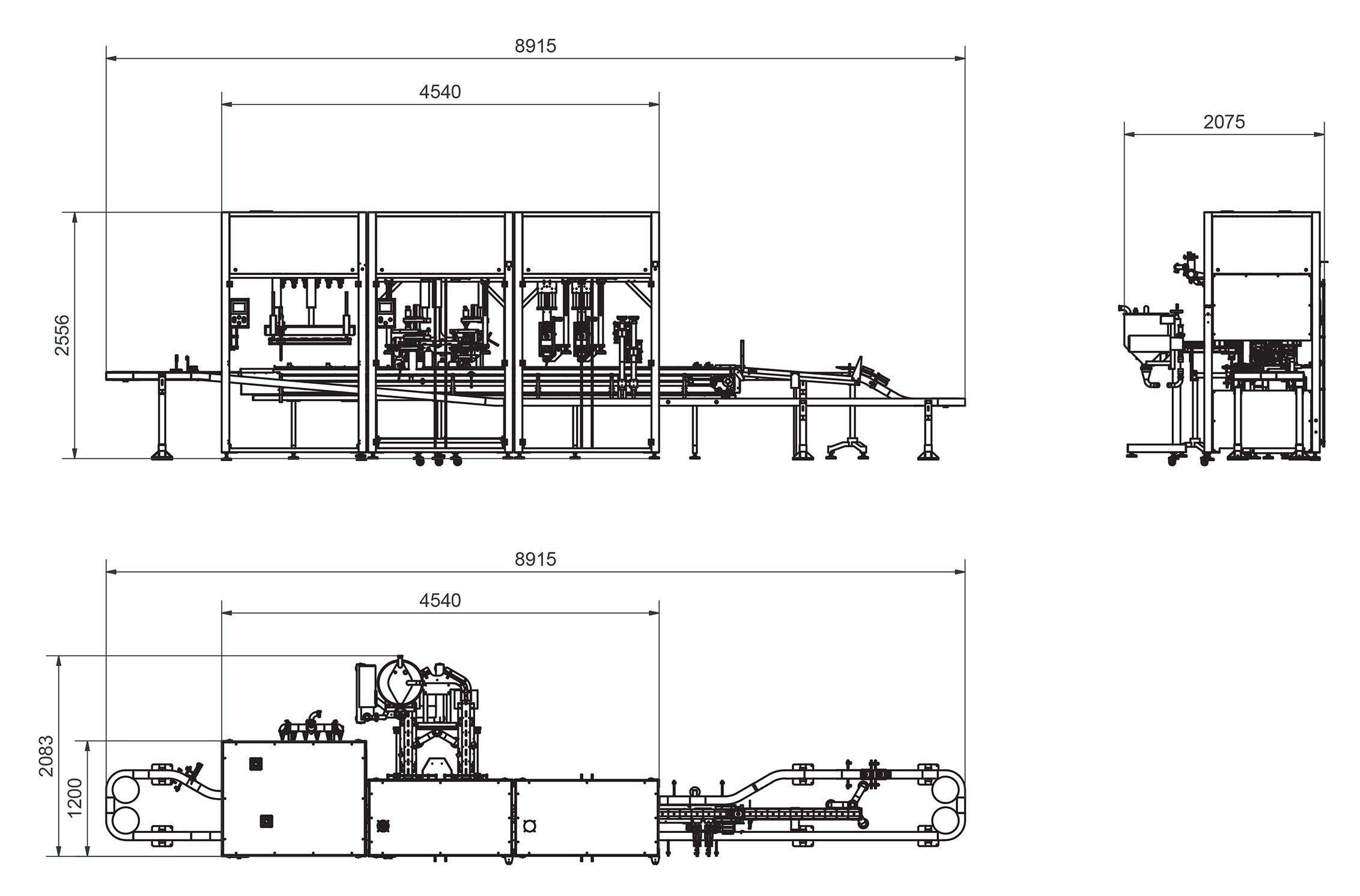 Dosing
Mass or electromagnetic flow-meters.  Servo-drive fillers fill just above the liquid surface and thus prevent the substance from foaming (soap, shampoo, etc.).
Capping:
Our capping machines serve any type of closures: standard caps, cosmetic pumps, triggers, sprays, push-pull caps and other.
Z5 capping machine
– automatic head consisting of four capping rolls for preliminary closure of corks (placed manually).
Z2 capping machine (of pick & place type)
– is equipped with a gripper which automatically collects caps from the tray.  It also boasts simple and tool-free format changeover and adjustment for any type of cap or bottle.
Z9 continuous capping machine
– capping without stopping work continuity.  Together with higher amount of fillers, it assists in achieving higher productivity in comparison with Cosmoline 40.
Labelling:
Duo Roto
– a universal, automatic labelling machine for labelling flat and elliptical packages (front/back), as well as round ones.  It can be used with various types of labels: transparent or nontransparent, on PE or PP foil.  Mechanical coupling of the main transporter with the lower one stabilizes the package and prevents it from reclining in the line while being labeled.
TYPES OF PACKAGE
Do you need an
valuation

or consultation?
Załącz zdjęcia opakowań i wypełnij formularz
SUPPORT SPECIALIST
Adam Dybaś
Key Account Manager
+48 697 180 380
adam.dybas@unilogo.com.pl
RECOMMENDATIONS