Perfumline 50
Filling and capping machine for perfumes
A multi-function device for filling and capping perfume bottles.  The machine may be used in a more universal manner and dose other products of low viscosity or low/non-foaming ones with an alcohol base, like toners or aftershaves.  Package capacity range: from 50 to 500 ml.
The main features and advantages:
Designed to work with perfumes:

filling to prevent spilling of perfumes
identical level of liquid at all times

Package capacity range: up to 250 ml, both glass and plastic.
Each closure type: micro-sprays, flip-tops, etc.
Clamping of atomizers
Universal and comprehensive application: perfumes, after shaves, toners, lotions, etc.
Fast changeover: adjusted format slots for any bottle shape.
Productivity: ~ 40 pcs. /min.
The machine has been designed to work with various package shapes (up to 500 ml) – its pucks system allows for quick changeovers of the packaging process into another package/product. Production is backed up by two capping heads: Z2 and Z5 (pumps, sprays, standard caps) and an optional press actuator (flip-top closures).  When working with products such as perfumes, the line is equipped with a clamping station to cap the perfume bottles.  Once capped, the packages undergo a "cap presence" verification process and are automatically unloaded from the pucks and repositioned into the exit conveyor (additionally equipped with a product rejection system).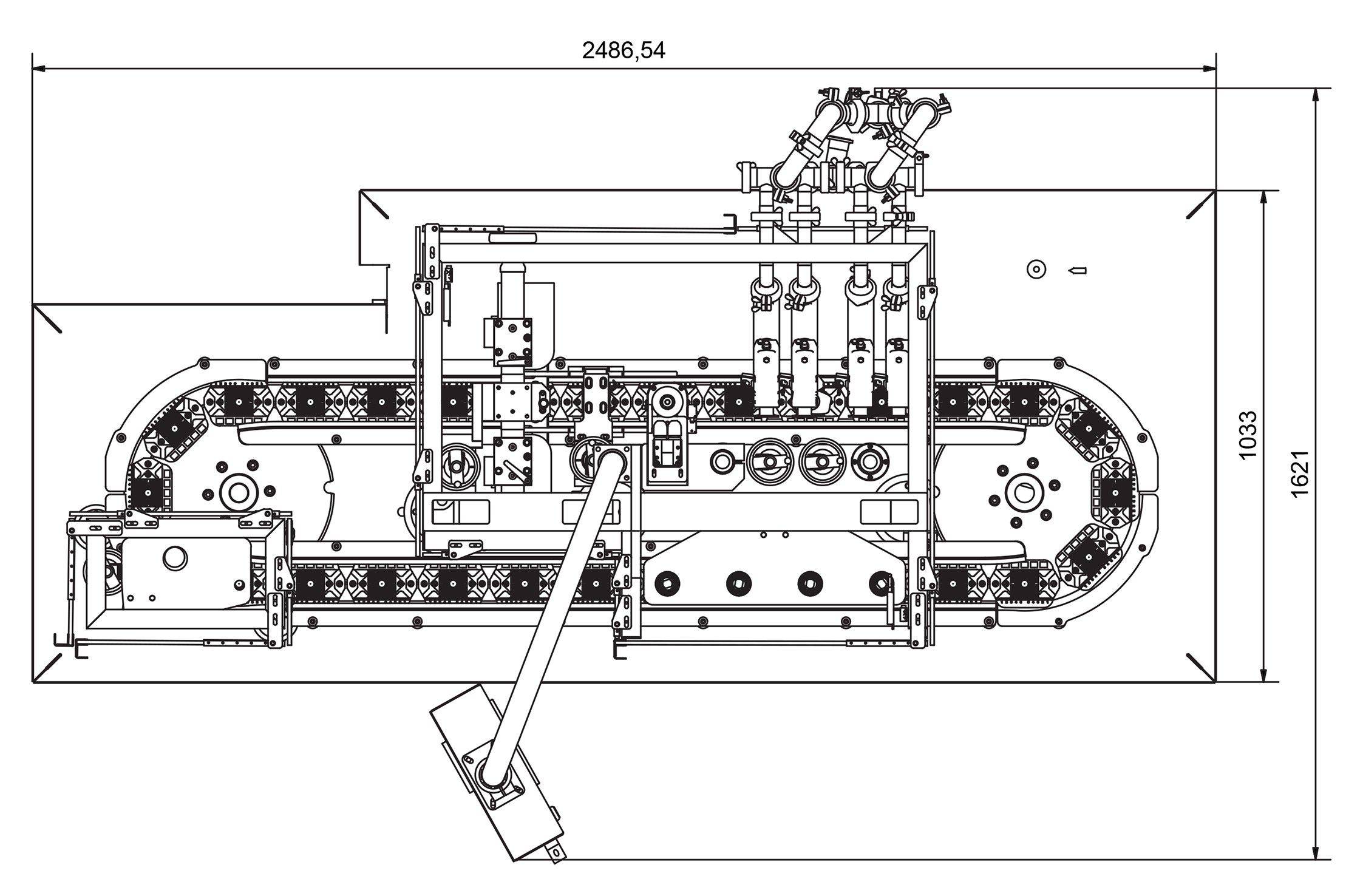 Filling
With the use of mass and electromagnetic flow-meters or a volumetric doser (fixed amounts/volumes are set and are dosed mechanically).  The dosing system fills the packages to the same level at all times in not necessarily even portions, e.g. for a 100 ml package four identical doses of 25 ml may be set, or two 40 ml doses plus a 20 ml with the last dose for foam removal.
Clamping
The perfume bottles capping machine is equipped with two clamping stations: preliminary clamping (straightening and inserting the dosing pipe onto the bottle) and the main clamping (aluminum spray is clamped around the bottle neck).

Capping
For each type of a closure: sprays, triggers, standard caps and many others.
Z5 capping
– automatic four roll preliminary capping head caps placed manually (pumps, sprays, triggers, etc.).
Z2 capping (pick & place type)
– servo-driven automatic capping head (with gripper).  Precise setting and adjustment of torque; possibility to cap with back-turn.  Tool-free exchange of the head format depending on a cap type and package.
TYPES OF PACKAGE
SUPPORT SPECIALIST
Adam Dybaś
Key Account Manager
+48 697 180 380
adam.dybas@unilogo.com.pl
RECOMMENDATIONS