DUO ROTO
Flat (front/back) and circular (wraparound) packages.
DUO ROTO labelling machine is a universal machine for double sided labelling of flat and elliptic packages (front/back) as well as circular ones (wraparound).  It works with paper, foil, transparent, metal-coated labels.
The main features and advantages:
A universal application: the labelling of flat, elliptical and round packages
Two optional labelling systems for circular packages:

Roto Classic with a high level of capacity: ~ 110 pcs./min.
Roto Can with a high level of precision: ~ 60 pcs./min.

Possibility to label open packages
Work with labels made from various materials: paper, foil, transparent and metal-coating
Maximum label width: 160 mm (or 240 mm optionally)
Maximum label length: 450 mm
Verification of the labelling process: bar codes, imprint presence and correctness, label presence
Simple and intuitive operations via the HMI panel
Hygiene and work safety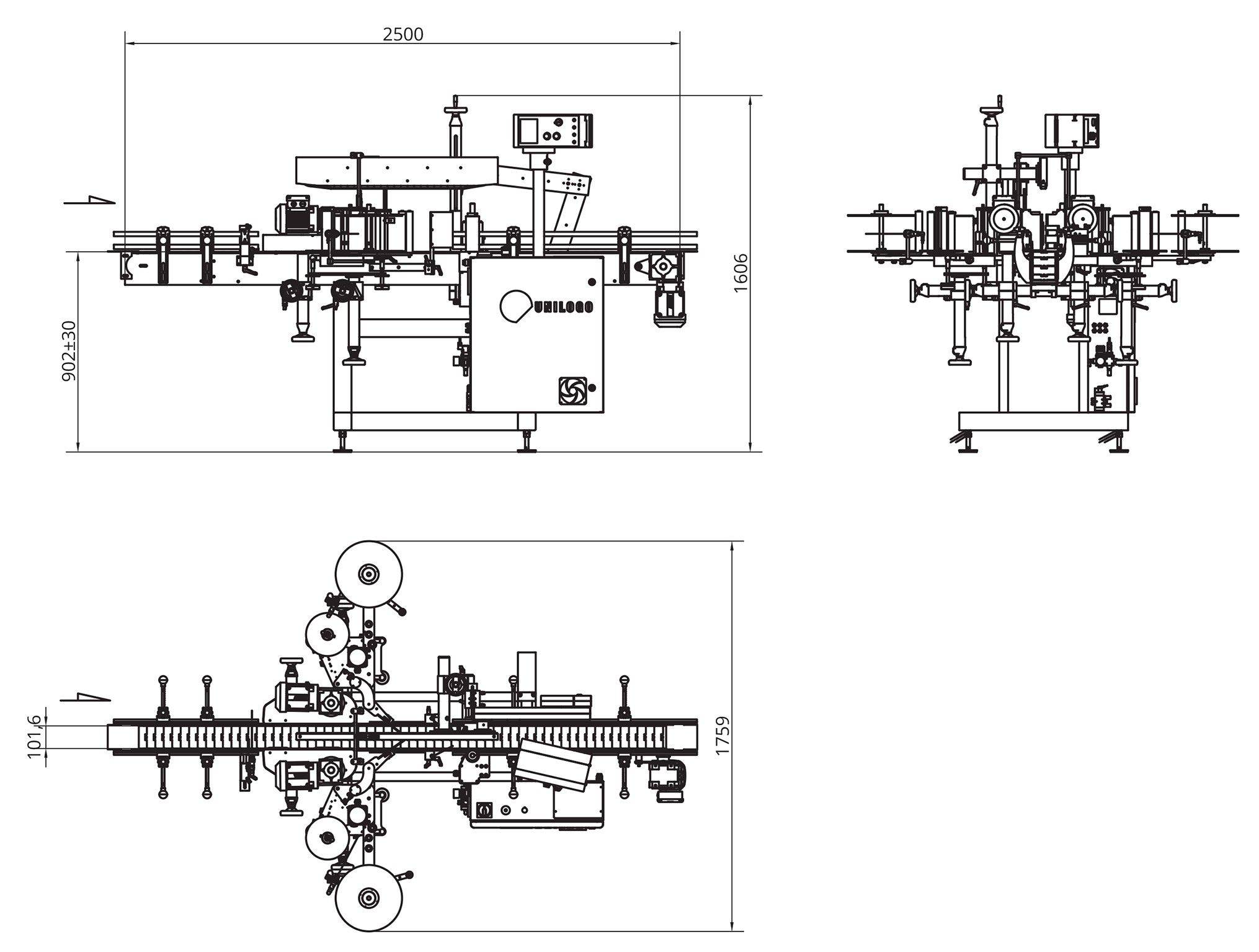 It is the most popular labelling machine model available in two versions: Duo Roto, Duo Roto Start – depending on Customer's needs and a package.
Labelling of ROUND packages:
Depending on production requirements, Roto labelling machine offers two labelling systems to choose from: highly efficient Roto Classic or extremely precise Roto Can.

When productivity counts the most, the Roto Classic system is recommended – the side conveyor and a fixed board is coated with a highly elastic material.  The conveyor rolls the packages throughout the board: during this movement a label is attached with no need to hold the package.  This solution allows the user to achieve a productivity level of about 110 labels/min.
When precision and aesthetics is what counts the most, the utmost precision of the Roto Can is recommended – a rolling device with a dual format rolls set.  The rolling device stops the approaching package and the positioned label is applied in the chosen place.  A few labels may be applied on the package in a single cycle.  The Roto Can system offers a productivity level of about 60 labels/min.  For small and unstable packages, the pneumatic upper extra down-hold also may be applied.
Labelling of FLAT packages (front/back):
DO PRZETŁUMACZENIA W zależności od potrzeb produkcji etykieciarka Duo Roto oferuje do wyboru dwa systemy etykietujące do opakowań okrągłych: wysoko wydajny Roto Classic oraz niezwykle precyzyjny Roto Can.

Transport: flat and elliptical packages are forwarded with the use of two conveyors: the lower singular plate base and the one above, key based.  Mechanical coupling of the two transporters allows the user to keep the same speed of the two forwarders at all times, thus preventing packages from bending and increasing precision, repetition and labelling aesthetics.  The key-based conveyor above allows the user to label irregular shapes and cap packages (e.g. detergent liquids, cone-head caps for toilet cleaners, etc.) and open packages.
Mangler: a set of press rolls which eliminate wrinkles and air bubbles on the labelled bottles.
Labelling parameters:
Two S8 labelling heads take care of label application.  They work with labels of various sources: paper, foil (including transparent) and metal-coated.
Maximum label width: 160 mm (or 240 mm optionally)
Maximum label length: 450 mm
Label application precision: 0.6 mm
External label roll diameter: 49-76/300 mm or 40–76/400 mm optionally.  In instances of rolls with a high diameter and weight, the machine may be equipped with an external motor powered unwinding device.
Separation and product positioning:
Application of a well chosen separator ensures that proper distance between packages.  Also precise product positioning is maintained.
Pneumatic separator: circular, light packages of low weight are recommended for use.
Chain separator: with an integrated separator (up to 60 pcs. per min., small package queue at the entrance)
Oscillating positioner: for soft bottles or asymmetrical packages with irregular shapes
Wheel separator: for small round packages e.g. ampoules
Belt separator: designed for productivity over ~ 80 pcs./min
Sponge separator: ensures the simplest positioning and separation.  Packages recommended: big and flat, e.g. canisters.
Steering and software:
A user-friendly HMI panel enables comfortable and intuitive management of machine operation: possibility of saving in settings (easy and fast format change), work and error history generation, efficiency and consumables use information.  The labelling machine has been designed in such a way as to ensure work hygiene and safety: the control cabinet has been moved from the lower conveyor.  Thanks to this solution, the risk of spillage over onto the electronics has been eliminated.
Additional equipment:
The hot-stamping UniData printer: the cheapest print on the market.  The possibility of imprinting the production date, batch no. and any other text up to 48 characters.
Rotating, feeding and exit table.
Process verification:
DUO Roto labelling machine may be equipped with a labelling parameters verification system.  With the use of properly chosen sensors and cameras, parameters such as: legibility, correctness of imprint and bar codes, label presence and placement or correctness of the label roll inserted are verified.
TYPES OF PACKAGE
Need a
QUOTATION

or an advice?
Upload your PRODUCTS PHOTO & fill in the form
SUPPORT SPECIALIST
+48 697 180 380
adam.dybas@unilogo.com.pl
RECOMMENDATIONS
Need a
QUOTATION

or an advice?
Upload your PRODUCTS PHOTO & fill in the form
SEE OUR SOLUTIONS FOR YOUR INDUSTRY
Watch more product videos
Order a paper catalogue and sample labels
Download the guide – how to set your labelling machine and design your labels
Leave your e-mail to gain access to the full version of our website
privacy policy
Informujemy o realizacji projektu pt. "Zrobotyzowana uniwersalna linia technologiczna do konfekcjonowania produktów branż: kosmetycznej, farmaceutycznej i chemicznej" współfinansowanego ze środków Europejskiego Funduszu Rozwoju Regionalnego w ramach Poddziałania 1.1.2. "Prace B+R związane z wytworzeniem instalacji pilotażowej/demonstracyjnej", Programu Operacyjnego Inteligentny Rozwój 2014-2020.