FALCON
Cylindrical packages
FALCON – fully automatic labelling machine for precise and efficient labelling in wraparound mode of round packages, which need to be transported in a horizontal orientation due to their shape, like mascaras, lip glosses, syringes, etc.
The main features and advantages:
Feeding of horizontally placed cylindrical packages: mascaras, lip glosses, syringes, ampoules, etc.
Roll or collecting conveyor (depending on the particular package)
No production breakdowns – the machine may work nonstop, with no production stops for exchange of label rolls
The nonstop version is equipped with a label presence sensor and a package rejection system for incorrectly labelled products as standard
The machine may work with any label material.  It may also apply non-standard labels, e.g. booklets and labels with Braille script
Easy integration with the customer's existing production line
Productivity: up to 200 pcs./min.
The packages are transported on a roll conveyor or on a specially designed conveyor with collecting grippers which enable "recumbent" labelling of cylindrical packages (lengthwise with small diameters), e.g. mascaras, ampoules, syringes.
The machine may be set up as a free-standing machine with manual package feeding.  It may also be integrated with the client's existing production line.  Depending on production needs (productivity), the labelling machine may be arranged in either one- or two-head version.  The two-head version ensures the continuous flow of work: without the need to stop the machine for label roll exchange. When labels run out on the first roll, the second one automatically takes over.  It avoids costly production slowdowns during label roll exchange and achieves high productivity (up to 200 pcs./min.).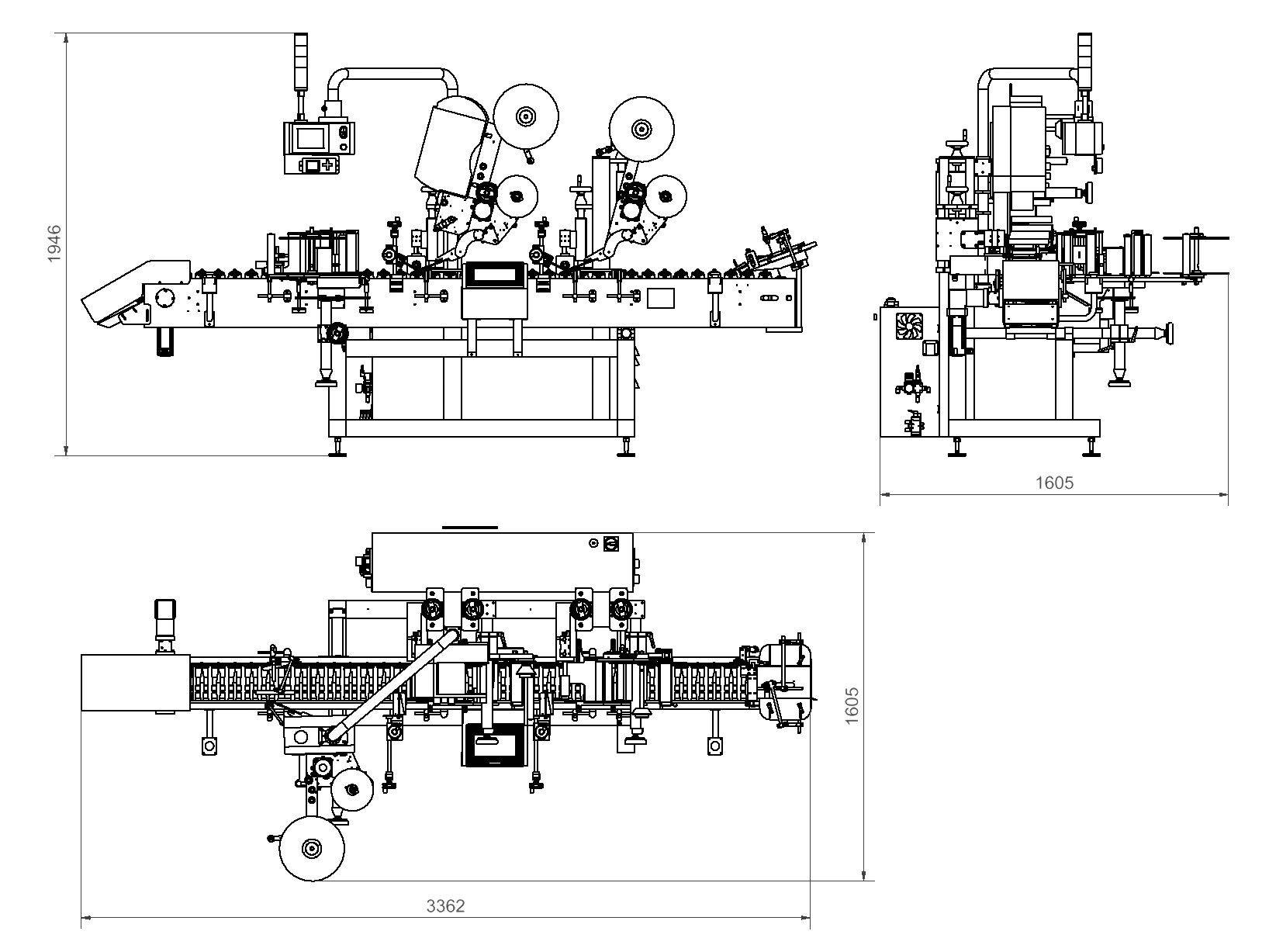 Labelling parameters:
Two S8 labelling heads take care of label application.  They work with labels of various types: paper, foil (including transparent) and metal-coated.
Maximum label width: 160 mm (or 240 mm optionally)
Maximum label length: 300 mm
Label application precision: 0.6 mm
External label roll diameter: 49-76/300 mm or 40–76/400 mm optionally.  In case of rolls of high diameter and weight, the machine may be equipped in an external, motor-powered, unwinding device.
Steering and software:
A user-friendly HMI panel enables comfortable and intuitive management of machine operation: settings-saving possibility (easy and fast format change), work and error history generation, efficiency and consumables use information.
Process verification:
FALCON labelling machine may be equipped with a labelling parameters verification system.  With the use of sensors and cameras (chosen at the stage of machine design), such parameters as imprint legibility, correctness of bar codes, label presence, label position and correctness of label roll are possible.
Verification of bar codes: with the use of bar codes scanner chosen on the basis of label type and code used.  Such verification takes place before label application on the package.  The system is programmed from the stationary scanner on the basis of a reference label or a scan of production order.  The system is intended to stop the machine if the result of the verification process is negative.  Incorrect labels will not be placed on packages.
Imprint presence verification: imprint may be also be verified by colour or contrast sensor.  The system is also supposed to verify work of the printer.  The system is dedicated for labelling machines which do not use computer-generated print.
Print verification: print correctness is verified by comparing obtained print with a sample fed earlier.  In the majority of cases, cameras with built-in image presentation are used.  Lack of print or print non-complying with the sample stops the machine.  The system is especially useful when working with machines using thermo-transfer or jet-imprint and with semiautomatic lines, in which the product is packed in a box immediately after the labelling process.
Label presence verification: label presence is verified with the use of the control system chosen on the basis of product and label type and is UV sensor- or camera-based.
Additional equipment:
The hot-stamp UniData printer: the cheapest print on the market.  The possibility to imprint production date, batch no. and any other text up to 48 characters.
TYPES OF PACKAGE
Need a
QUOTATION

or an advice?
Upload your PRODUCTS PHOTO & fill in the form
SUPPORT SPECIALIST
+48 697 180 380
adam.dybas@unilogo.com.pl
RECOMMENDATIONS
Need a
QUOTATION

or an advice?
Upload your PRODUCTS PHOTO & fill in the form
SEE OUR SOLUTIONS FOR YOUR INDUSTRY
Watch more product videos
Order a paper catalogue and sample labels
Download the guide – how to set your labelling machine and design your labels
Leave your e-mail to gain access to the full version of our website
privacy policy
Informujemy o realizacji projektu pt. "Zrobotyzowana uniwersalna linia technologiczna do konfekcjonowania produktów branż: kosmetycznej, farmaceutycznej i chemicznej" współfinansowanego ze środków Europejskiego Funduszu Rozwoju Regionalnego w ramach Poddziałania 1.1.2. "Prace B+R związane z wytworzeniem instalacji pilotażowej/demonstracyjnej", Programu Operacyjnego Inteligentny Rozwój 2014-2020.