DPE /DPM
Semi-automated filling machine with flow-meter
The flow-meter DPE/DPM semiautomatic filling machine is an easy-to-operate and efficient machine designed to fill thin and foamy liquids of medium viscosity (up to 6000 cP).  A wide range of filling amounts: from 10 ml to 30 L and more.
The main features and advantages:
Precise filling controlled by the appropriate flow-meter: electromagnetic or mass.
Filling of any product type: cosmetics, industrial and household chemistry, pharmaceuticals.
Dose range: 10 ml – 30 L
1 or 2 filling nozzles.
Easy to clean (flow-through rinsing).
The device may be equipped with either one or two filling nozzles with the possibility of lowering them and filling from the bottom.  The device may be especially designed for use with food products (special pump, pipes and sealings).
In the case of large containers (e.g. barrels), the filling nozzle may be dismounted and stand-alone packages filled (out of the working top).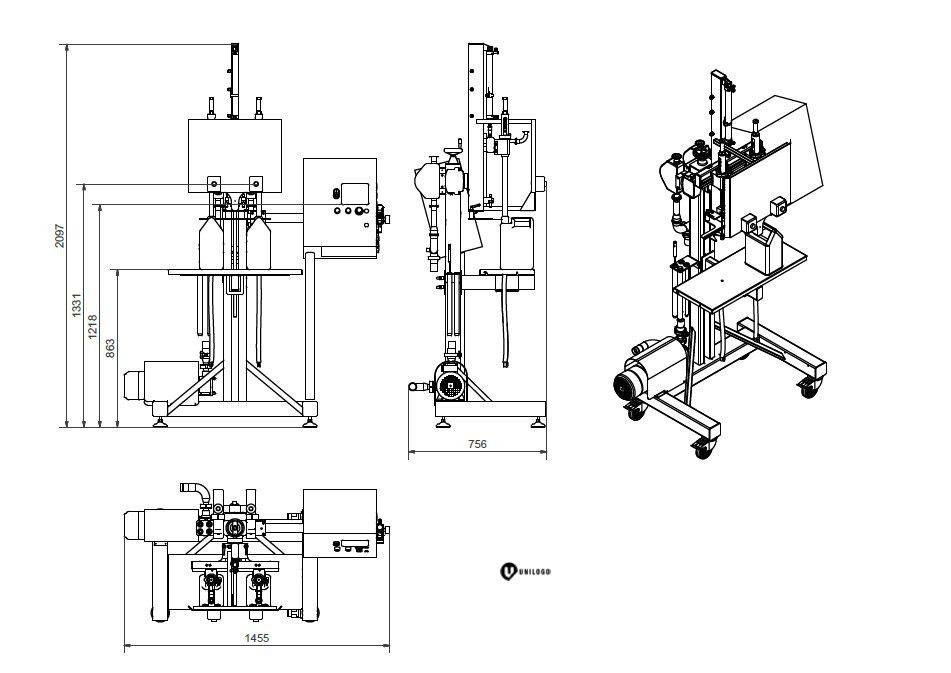 Dosage
Depending on substances dosed, the filling machine is equipped with an electromagnetic or mass flow-meter:
DPE electromagnetic flow-meter – doses electricity-conducing substances (minimum 5 mikroS/cm), but cannot work in the EX zone.
DPM mass flow-meter – fills substances which do not conduct electricity, e.g. oils, spirits – may work in the EX zone.
Description of operation:
An operator places packages on the working top below the filling nozzles.  After filling mode has been released, the nozzles go down to the package bottom.  In the case of very foamy liquids, the nozzles are raised together with the medium level filled, which prevents it from foaming.  Non-foamy substances may be dosed from bottleneck level.
After filling has been completed, the bottles are unloaded manually and the process repeats.
TYPES OF PACKAGE
Need a
QUOTATION

or an advice?
Upload your PRODUCTS PHOTO & fill in the form
SUPPORT SPECIALIST
+48 697 180 380
adam.dybas@unilogo.com.pl
RECOMMENDATIONS
Need a
QUOTATION

or an advice?
Upload your PRODUCTS PHOTO & fill in the form
SEE OUR SOLUTIONS FOR YOUR INDUSTRY
Watch more product videos
Order a paper catalogue and sample labels
Download the guide – how to set your labelling machine and design your labels
Leave your e-mail to gain access to the full version of our website
privacy policy
Informujemy o realizacji projektu pt. "Zrobotyzowana uniwersalna linia technologiczna do konfekcjonowania produktów branż: kosmetycznej, farmaceutycznej i chemicznej" współfinansowanego ze środków Europejskiego Funduszu Rozwoju Regionalnego w ramach Poddziałania 1.1.2. "Prace B+R związane z wytworzeniem instalacji pilotażowej/demonstracyjnej", Programu Operacyjnego Inteligentny Rozwój 2014-2020.