ROTO
Wraparound labelling of cylindrical packages.
ROTO is a universal machine for labelling round packages, also in the wraparound mode. The machine is equipped with a roll system enabling precise positioning of the package. The ROTO labelling machine labels glass, HDPE, PET, steel and aluminum packages.
The main features and advantages:
Two optional labelling systems for round packages:

Roto Classic of high capacity: ~ 110 pcs./min.
Roto Can of high precision: ~ 60 pcs./min.

Work with a wide range of paper, foil and transparent labels
Maximum label width: 160 mm (or 240 mm optionally)
Maximum label length: 450 mm
Verification of the labelling process: bar codes, imprint presence and correctness, label presence
Simple and intuitive operation via the HMI pane
Hygiene and work safety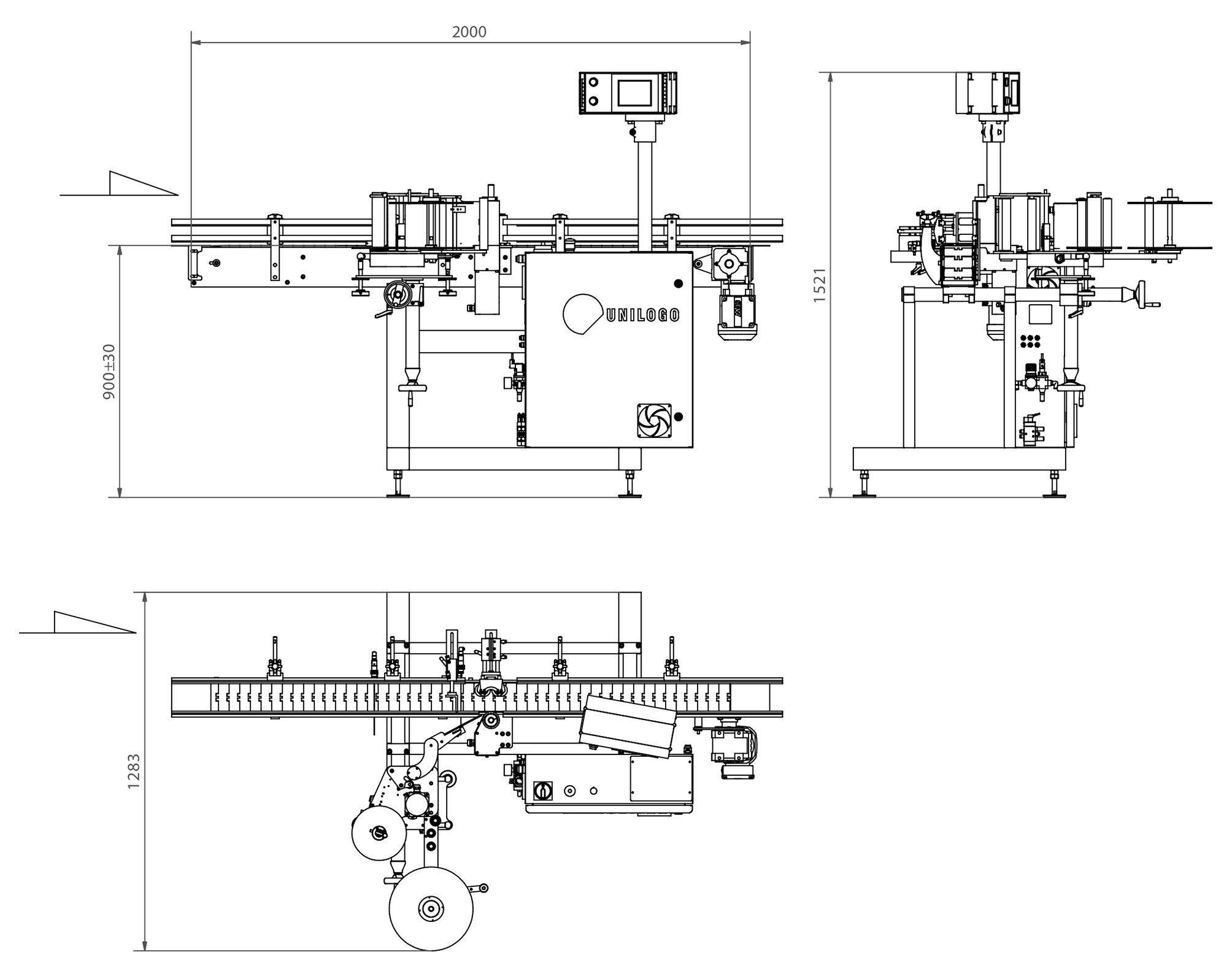 Labelling capacity:
Depending on production requirements, the Roto labeling machine offers two labelling systems to choose from: the highly efficient Roto Classic or the extremely precise Roto Can.

When productivity counts the most, The Roto Classic system is recommended – the side conveyor and the fixed board is coated with a very flexible material.  The conveyor rolls the packages throughout the board: during this movement the labels are attached with no need to hold the package.  This solution allows the user to achieve a productivity level of about 110 labels/min.
When precision and aesthetics are what count the most, the utmost precision of the Roto Can is recommended – a rolling device with two format rolls set.  The rolling device stops the approaching package and the positioned label is applied in the chosen place.  A few labels may be applied on the package in a single cycle.  The Roto Can system offers a productivity level of about 60 labels/min.  Additionally for small and unstable packages, the pneumatic upper extra down-hold may be applied.
Labelling parameters:
S8 labelling head stands behind the label's application.  It serves a wide range of papers, foil as well as transparent labels.
Maximum label width: 160 mm (or 240 mm optionally)
Maximum label length: 450 mm.
Label application precision: 0.6 mm
External label roll diameter: 49-76/300 mm or 40–76/400 mm optionally.  In instances of rolls with a high diameter and weight, the machine may be equipped with an external, motor powered, unwinding device.
Separation and product positioning:
Pneumatic separator: round, light packages of low weight are recommended for use.  Application of a well chosen separator ensures that the proper distance between packages and precise product positioning are maintained.
Steering and software:
A user-friendly HMI panel enables comfortable and intuitive management of machine operations: possibility of saving in settings (easy and fast format change), work and error history generation, efficiency and consumables use information.  The labelling machine has been designed in a way to ensure work hygiene and safety: the control cabinet has been moved from the lower conveyor.  Thanks to this solution, the risk of spillage over the electronics has been eliminated.
Additional equipment:
The hot-stamping UniData printer: the cheapest print on the market.  The possibility of imprinting the production date, batch no. and any other text up to 48 characters.
Rotating feeding and exit table.
Process verification:
Roto labelling machine may be equipped with the labelling parameters verification system.  With the use of properly chosen sensors and cameras, parameters such as: legibility, correctness of imprint and bar codes, label presence and place or correctness of the label rolls inserted are verified.
TYPES OF PACKAGE
Need a
QUOTATION

or an advice?
Upload your PRODUCTS PHOTO & fill in the form
SUPPORT SPECIALIST
+48 697 180 380
adam.dybas@unilogo.com.pl
RECOMMENDATIONS
Need a
QUOTATION

or an advice?
Upload your PRODUCTS PHOTO & fill in the form
SEE OUR SOLUTIONS FOR YOUR INDUSTRY
Watch more product videos
Order a paper catalogue and sample labels
Download the guide – how to set your labelling machine and design your labels
Leave your e-mail to gain access to the full version of our website
privacy policy
Informujemy o realizacji projektu pt. "Zrobotyzowana uniwersalna linia technologiczna do konfekcjonowania produktów branż: kosmetycznej, farmaceutycznej i chemicznej" współfinansowanego ze środków Europejskiego Funduszu Rozwoju Regionalnego w ramach Poddziałania 1.1.2. "Prace B+R związane z wytworzeniem instalacji pilotażowej/demonstracyjnej", Programu Operacyjnego Inteligentny Rozwój 2014-2020.